Mp3 player, Music Player – A beautiful and easy-to-use music player with a powerful audio equalizer, providing an emulator audio environment to bring true-to-life sound.
It can let you easily get the professional sound effect and enjoy it. Mp3 player, Music Player can fulfill all your musical needs and brings you an all-new music experience!
You can easily change the play tone for your songs and audio, it's a great sound changer for you!
Quick search all your favorite music songs, instantly start playing your music based on songs, artists, or albums or browse by genre, music folder songs, favorite songs and your custom music playlist.
Mp3 player, Music Player gives you the best music experience, play all the songs on your Android device, listens to music without a wi-fi connection.
Audio player for all types of audio formats, Mp3 player, Music Player supports all music and audio formats including MP3, MIDI, WAV, FLAC, AAC, APE, and play them with high quality.
Main function:
Play all audio files




Manage music songs by tracks, albums, genres, artists, folders and custom playlist

Built-in Multiple Band Music Equalizer, customize sound effects

Play music by folder

Set music as ringtone

Share songs

Create your Playlist

Control playing songs on the lock screen or on the notification bar
Mp3 player- music player and equalizer
when it comes to music no one is ready to compromise and no one should. With our new app "mp3-music player and equalizer" you can listen to your favorite music anytime and anywhere.
With our new and advanced features, we provide you a great experience with your music. Shuffle and equalizing your music are as easy as sipping your coffee on a Sunday. Want to see how? download the app right now.
Music settings are very important to finalize your own style and listen to your music in your own way. With our settings option, you can go and make the changes yourself. Be your own boss with your own music. Follow the steps below to see how.
Step 1: Open "mp3 player-music player and equalizer" on your pc or laptop.
Click on the Settings option on the bottom left of your screen with a "screw" icon.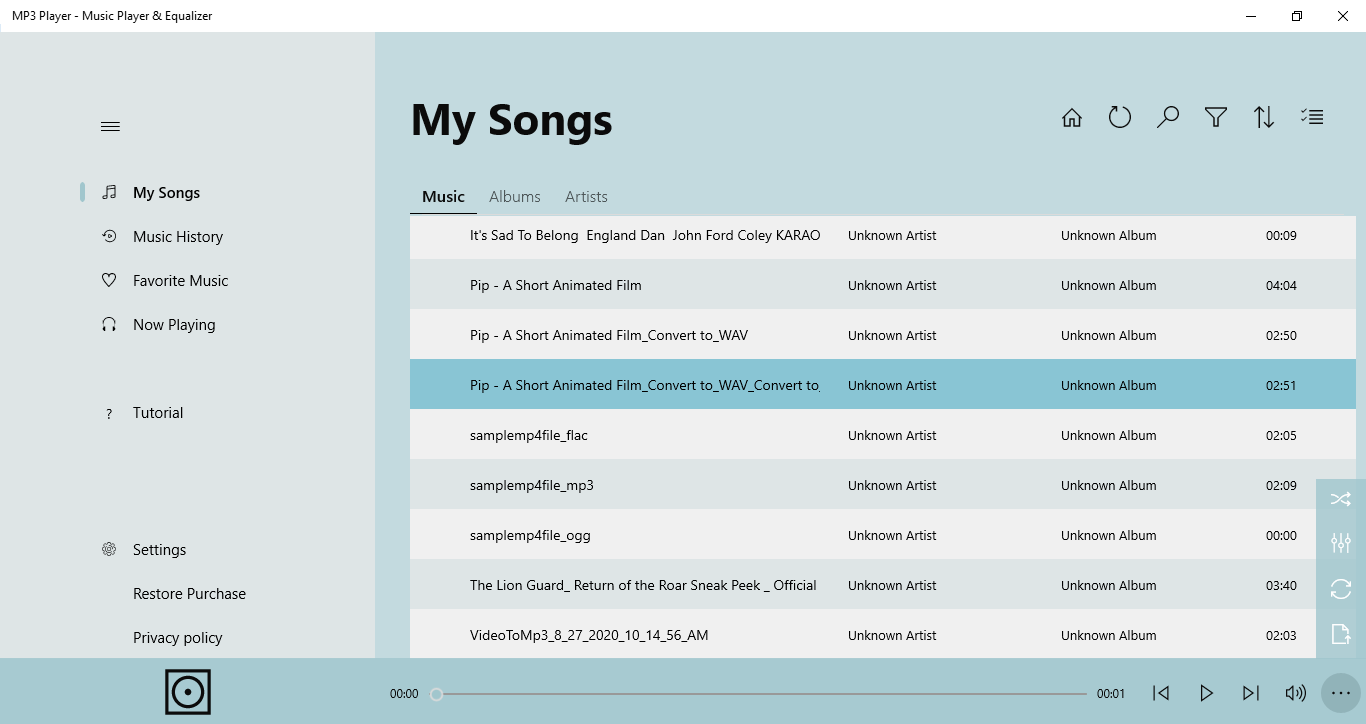 Step 2: 
To personalize click on the first option "personalize", you can now choose your desired settings.

 To import your own music, click on the music library option in the settings.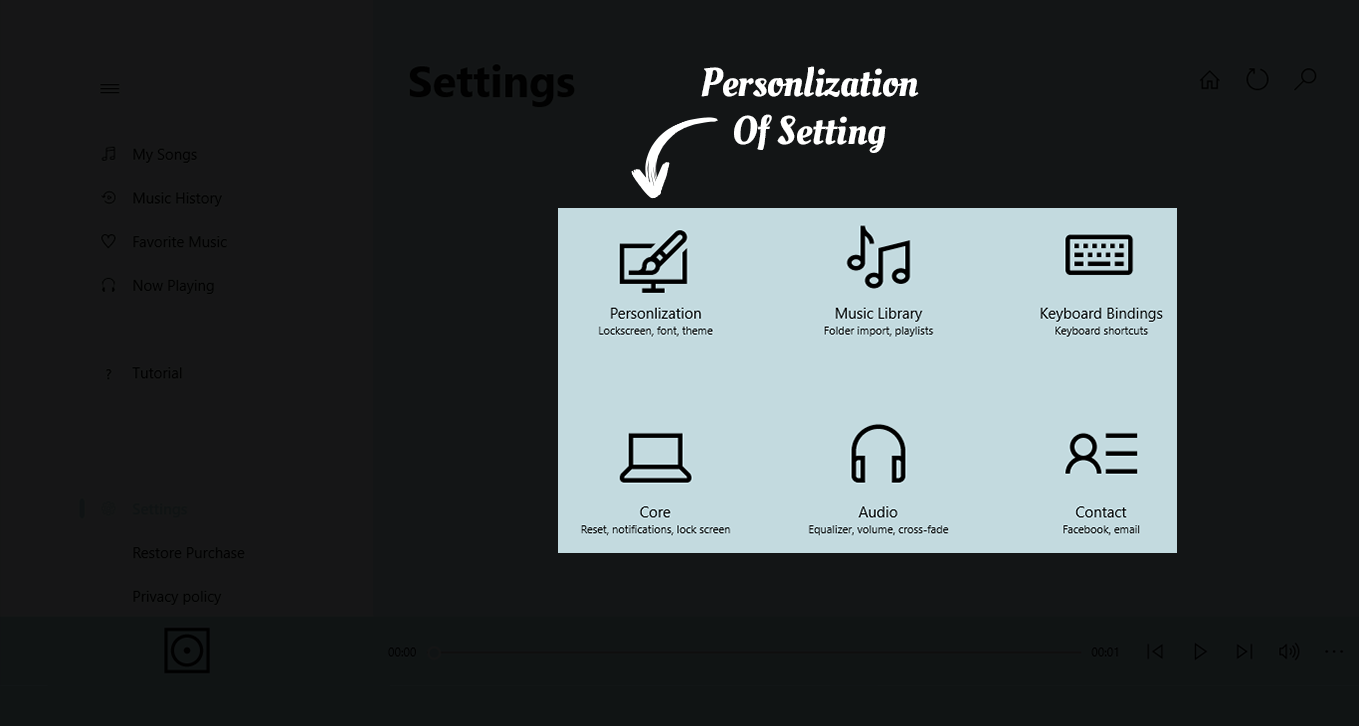 Step 3: 
To check all the keyboard controls, click on the "keyboard binding" option, now you can see which keys do what when you are using mpe3 player-music player and equalizer.

To check the core settings, click on the "core" option on the bottom line of the settings menu where you can make changes with the basic settings of the app.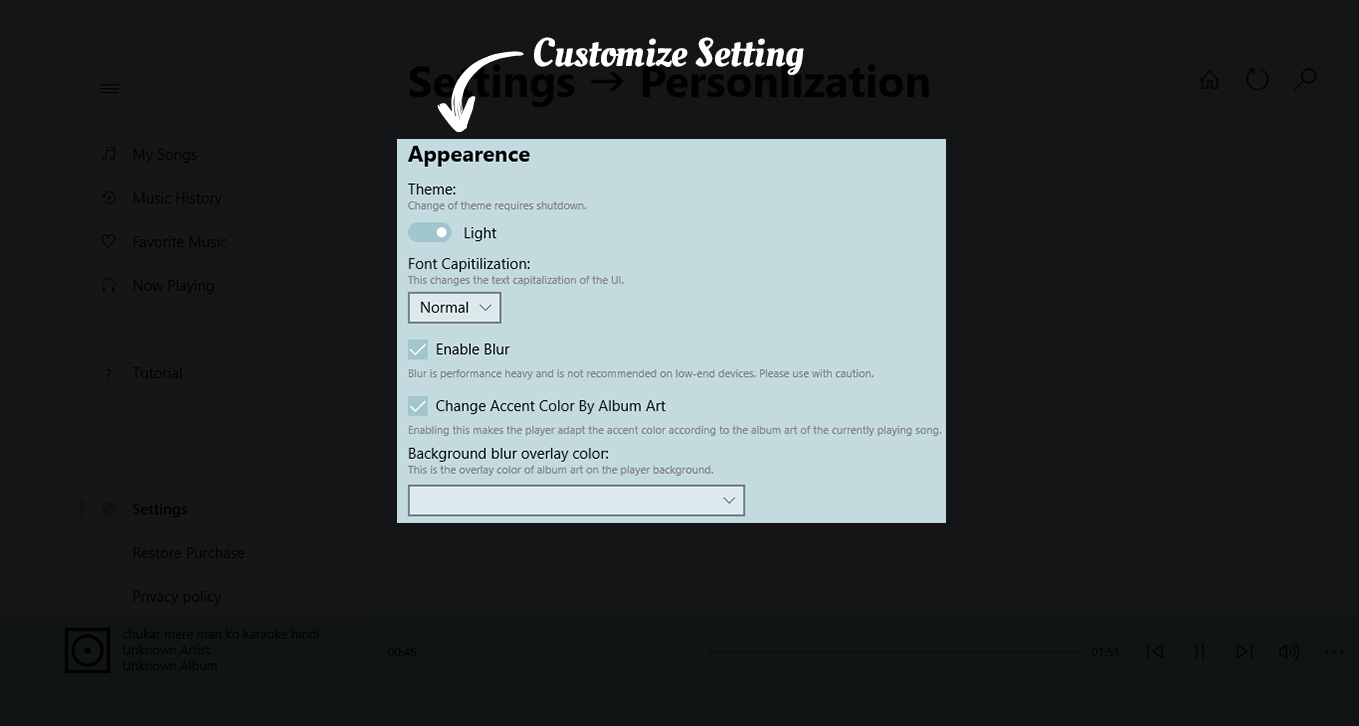 Step 4: 
Click on the "audio" option to check the audio settings.

Click on the "contact" option if you want to contact the customer support team of "mp3 player-music player and equalizer".