There are people who have a 'strictly no retouching' policy when it comes to their work. But when it comes to taking selfies, most of us look for different filters and stickers to increase the quality and approach of the picture. However, every now and then we find that we can enhance our images and make them better with a slight touch of Selfie Beauty Camera.
Sweet Camera is like your best friend. Sometimes images don't live up to your expectations and guess what? You can edit even your most underwhelming shots to make all of them look spectacular. Our collection consists of 1000s of editing features that will help you make the most of your artistic creations.
Add amazing photo filters & stickers for your selfies and explore the funny side of your images and share them easily using this app and try to get more likes and more followers. Go get it!!
Yes, it's crazy that you can do a million things with the photo effects and filters on Sweet Camera, but what's even crazier is that you'll have fun doing it! We left all creative control to you, while keeping everything super easy to use. You can also easily share your photos on all your favorite social networks with the touch of a button! We created Sweet Camera considering all your needs in mind, so it's truly everything you could ever want from a photo editor.
Step 1: Open Sweet camera app whenever you want to add new magic to your selfies and surprise your followers with the added blush.
Click on the "Effects" tab to view our magical collection of 20+ filters/effects to beautify your selfies and make your skin look amazing. 
Step 2: Select your desired effect from the list and click on "Save" to finally save and share your edited image.
If you are not satisfied with your current selection, click on

🚫 

and add new filter to your image.

To add multiple effects, keep choosing and saving your selection one by one to get the best results.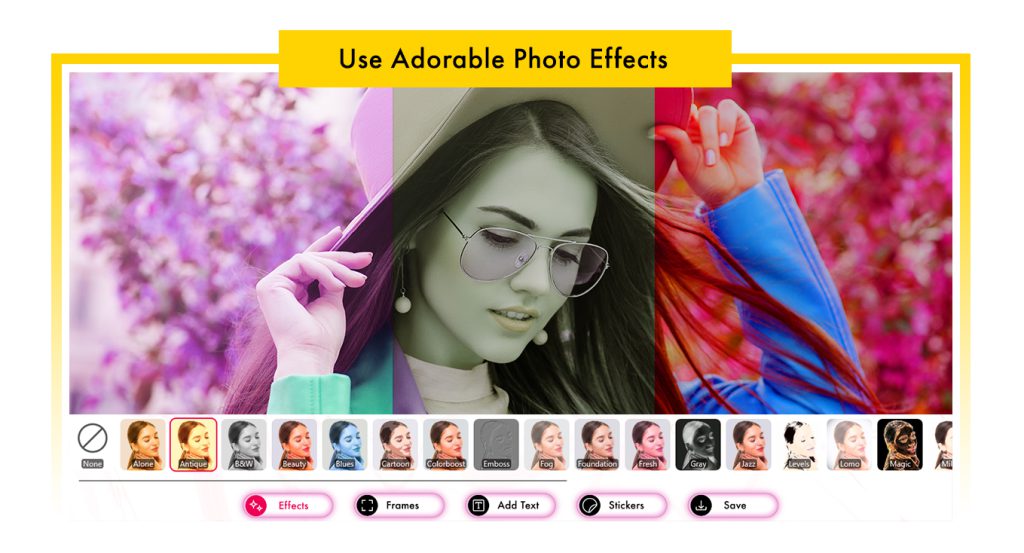 Step 3: Once done click on the "Save' Button to export your image with beautiful and mesmerizing Filter effects.