There are people who have a 'strictly no retouching' policy when it comes to their work. But when it comes to taking selfies, most of us look for different filters and stickers to increase the quality and approach of the picture. However, every now and then we find that we can enhance our images and make them better with a slight touch of Selfie Beauty Camera.
Sweet Camera is like your best friend. Sometimes images don't live up to your expectations and guess what? You can edit even your most underwhelming shots to make all of them look spectacular. Our collection consists of 1000s of editing features that will help you make the most of your artistic creations.
Add amazing photo filters & stickers for your selfies and explore the funny side of your images and share them easily using this app and try to get more likes and more followers. Go get it!!
Photo frames are unique photo effect, and you can use the frame to add subtle or contrast to your photo to enhance its layout. To make full of photo frame, Sweet Camera can inspire you quite a bit and create a beautiful perspective to your content. You can adjust the outer size, inner size, rounder corner of an image in the Polaroid frame and add a special new perspective to your photo. A floral photo frame might be great for your wedding photos or other festivities in the best way. Try all kinds of great frames from our menu like, square picture frames, vintage photo frames… All of them are suitable for many occasions.
Step 1: Once you open the app from your Laptop or PC, you will find an option to add Frames to your Image.
Now take aselife to camera or select a photo from your system gallery.
Step 2: There are 6 categories of beautiful frames available with you named.
To do so, click on "FRAME" tab to get into the world of unlimited editable frames.

"Border Frames" – Simple yet elegant frames for daily use.

"Mix Frames" – Explore a bunch of our selected frames for you.

"Love" – This is specially made to be shared with your loved ones.

"Sea" – Get a breezy feeling when you apply our best sea frames.

"Village" – Engulf yourself in the raw village vibe with these amazing frames.

 Click on any of the above options and then you'll have hundreds of frames available to you for your selfies.

After you've selected your desired frame, click on X and come for a preview. Not feeling it enough, go back to the options and change it according to your mood. 

Once you are satisfied with your selection, click next and share it with you friends and family or save it for future use.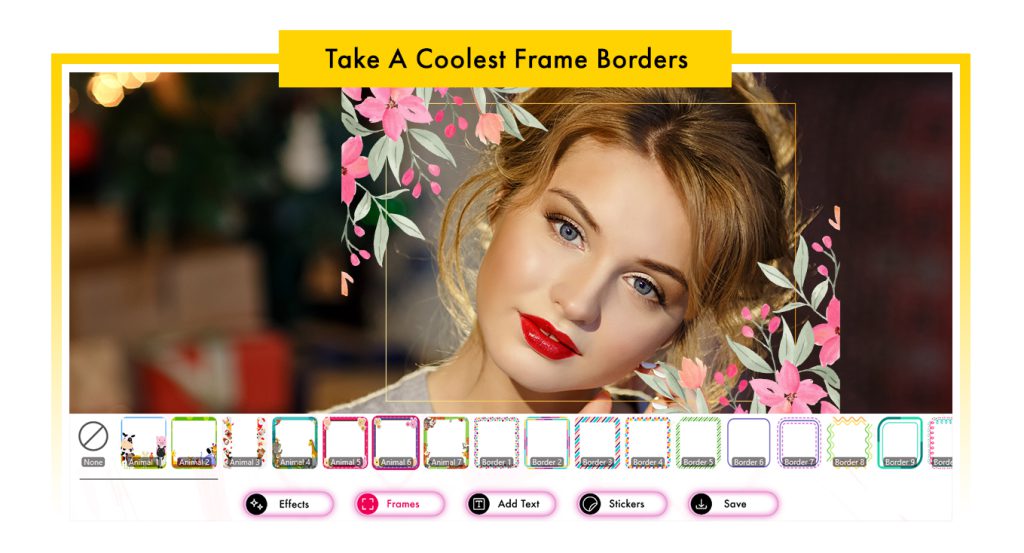 Step 3: Once done click on the "Save' Button to export your image with beautiful and mesmerizing Frames.