There are people who have a 'strictly no retouching' policy when it comes to their work. But when it comes to taking selfies, most of us look for different filters and stickers to increase the quality and approach of the picture. However, every now and then we find that we can enhance our images and make them better with a slight touch of Selfie Beauty Camera.
Sweet Camera is like your best friend. Sometimes images don't live up to your expectations and guess what? You can edit even your most underwhelming shots to make all of them look spectacular. Our collection consists of 1000s of editing features that will help you make the most of your artistic creations.
Add amazing photo filters & stickers for your selfies and explore the funny side of your images and share them easily using this app and try to get more likes and more followers. Go get it!!
Have exciting news you just want to yell out loud? Let the stickers on your selfies do the talking for you. You get a lot of  stickers to advertise, for special holidays, but we also have stickers for when you want to scream "YOLO!" Add stickers for giggles to your Instagram profile, your blog header, or anywhere you want to leave an impression! Design whenever and wherever inspiration strikes by Sweet Camera – Selfie Beauty Camera, Selfie & Beauty Cam.
Stickers on your selfies can be used to create more moods than just boundless silliness. Stickers can also punctuate a tender moment or a sunset saunter. Stickers used together with photo filters and creative cropping to evoke mystery, space, grit, or anything you can ever imagine. Browse 1000s of our stickers to nurture your imagination and keep your design gears spinning.
Step 1: Once you open the app and click/select your selfie, you're directed to the editing page. First thing you see are the numerous choice of stickers.
There are 10 different types of themes you get in the "Stickers" section including, Mix, Snap, Birthday, Comics, Crown, Easter, Emoji, Heart Crown, Love and Glasses. 
Step 2: Select your favourite sticker and press on X in the corner to go back to the previous screen.
Now you'll be able to see your sticker on the screen, drag it to your preferred location and resize to your need. You can also rotate the emoji to make a perfect fit.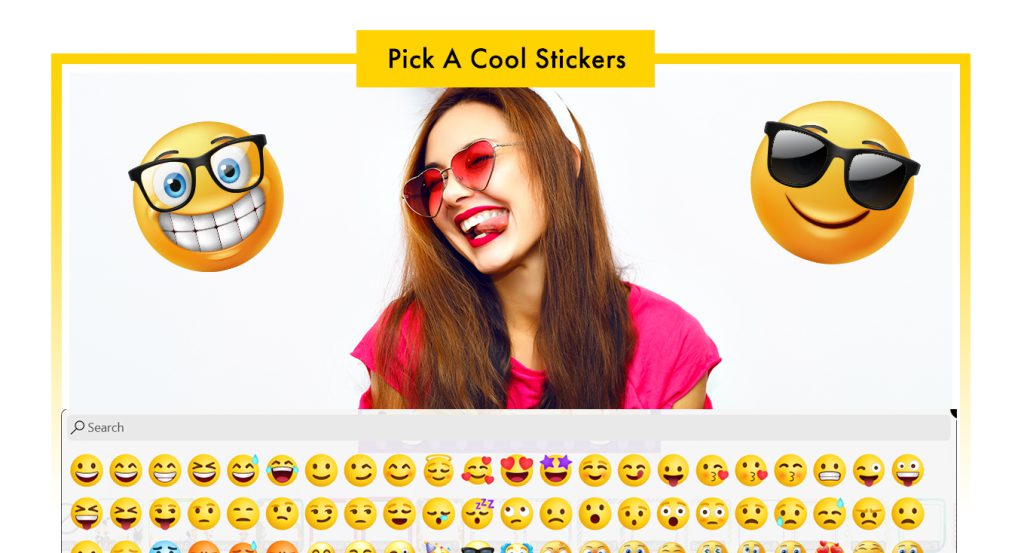 Step 3: Once done click on the "Save' Button to export your image with beautiful and mesmerizing stickers.