Just a few steps and you can create perfect custom video thumbnails and miniature. It's so easy and powerful to use both for YouTube beginners and professionals.
Create compelling thumbnail, channel art and banner of videos in YouTube thumbnail maker!
You can add any ideas to the work with a powerful YouTube studio toolkit. Our work is also suitable for banner and channel art as well as intro maker.
This is what our best YouTube thumbnail creator studio can do:




Background




Select from multiple backgrounds to create YouTube banners.

Powerful and stunning text design presets.

Amazing logos to choose from.

Save your content in both JPG or PNG
You can access thousands of beautiful text design presets, which you won't get from any other thumbnail App.
Create an eye-catching YouTube thumbnail that boosts your viewership.
You have done it  – finally, you have filmed and edited your youtube video that will put all the internet's clips put together to shame. Now you're wondering if it's possible to encapsulate all that amazing work in just one thumbnail creation. Now you want something that captures the full length of your video in one image and boosts its clickability in one fell swoop.
With Thumbnail Maker for YouTube Videos, you can enrich your chosen snapshot with texts and different design elements, or create a specified thumbnail design for a synchronized playlist or channel. With the best in industry tools and our easy-to-navigate interface, you will be creating your YouTube thumbnail to the tune of instant virality easily. How to create a YouTube thumbnail? It's very Easy!
Make it impossible for your audience to scroll past your YouTube thumbnail without clicking and having a look.
A picture can present a thousand words, but adding just the perfect headline to your thumbnail can make your content speak volumes more. You must have browsed through some of the popular channels on YouTube and you'll always notice that they usually render their headlines onto their thumbnails. The best ones add a complimentary copy that supports their graphics and make an effective scroll-stopper.
Creating a quote/textbox for your thumbnail is a cinch with Thumbnail Maker for YouTube Videos App. What's better? You can choose from a wide selection of fonts that complements your video's subject matter. That can be an informative lecture or a playful mashup. Illustrations Texts, icons and photos are also readily available for bringing all your design to life.
Step 1: Click on the start button to start the app and from the background, options choose one that fits well according to your design.
Step 2: Press on the "Text" icon and then click on "Add Text" or choose from the saved ones.
When you are on the Textbox there are multiple options you can choose from. 

Choose text alignment – Right, Left or Centre. 

Choose text style – Normal, Bold or Italics

Choose from different options the color for your text. 

Once you have jotted down your text, you can scroll through our multiple options of fonts and shades.

Complete by clicking on "

✓" and save your selection for the next steps. 

Now you can edit your text, rotate it or resize it. 

Click on "X" to cancel the text and create a new one.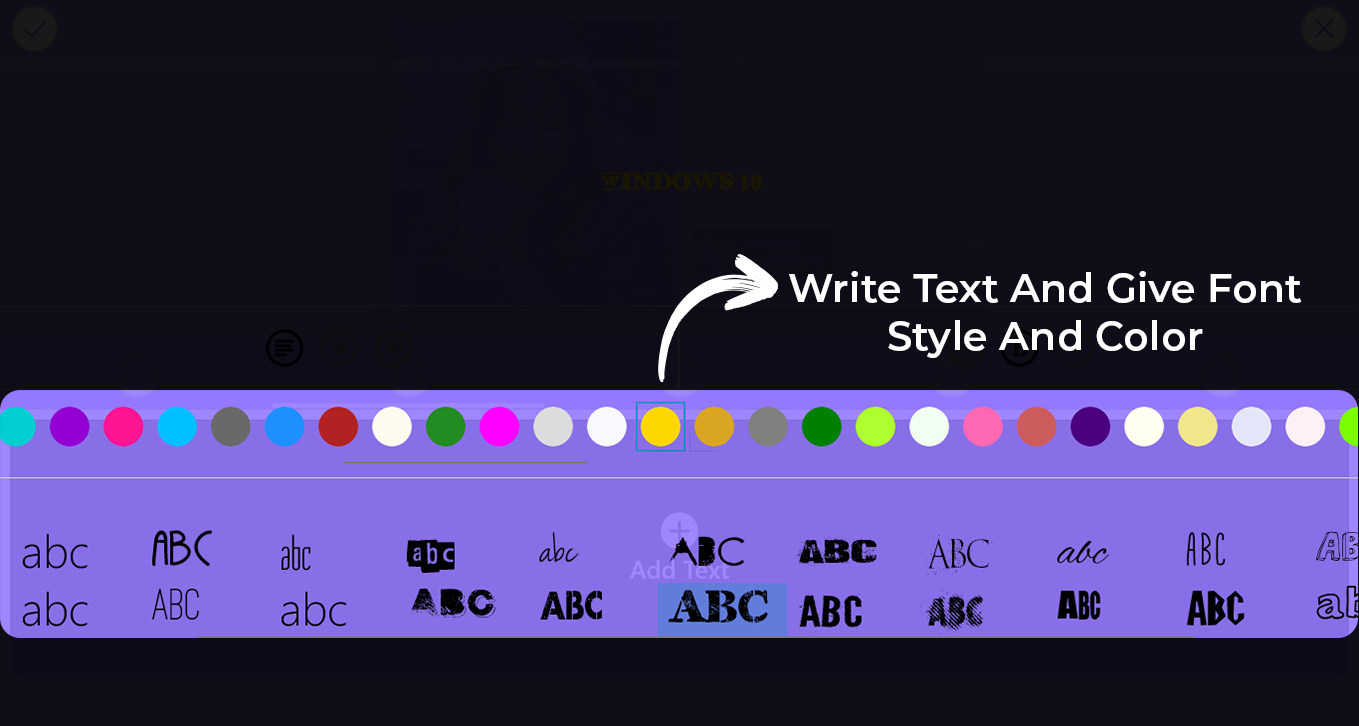 Step 3: Once you're happy with the thumbnail design you've created, it's time to share it with your viewers. Download and save it to your PC or Laptop in PNG or JPG format, then you can add it to your channel later. You can even share it on social media with one click