There are people who have a 'strictly no retouching' policy when it comes to their work. But when it comes to taking selfies, most of us look for different filters and stickers to increase the quality and approach of the picture. However, every now and then we find that we can enhance our images and make them better with a slight touch of Selfie Beauty Camera.
Sweet Camera is like your best friend. Sometimes images don't live up to your expectations and guess what? You can edit even your most underwhelming shots to make all of them look spectacular. Our collection consists of 1000s of editing features that will help you make the most of your artistic creations.
Add amazing photo filters & stickers for your selfies and explore the funny side of your images and share them easily using this app and try to get more likes and more followers. Go get it!!
Sweet Camera – Selfie Beauty Camera, Selfie & Beauty Cam a very easy to use tool where you can add text to your pictures on the go. You are offered simple-to-understand navigation menus with multiple clearly labeled options. The Sweet Camera app allows you to add text or even text animation on your PC and Laptop to your photos with plenty of fonts in our text editor for you to choose from.
Step 1: When you choose your image from the Gallery, you'll see a button "Text". Press it to add your desired Text or Slogan or to express a message through your image.
Step 2: Once you click on "Text", you'll be directed to a textbox with multiple options to enhance your picture with texts.
Choose from the wide range of Fonts and styles, whichever suits you best and express your emotions on the image.

Start typing your message in the textbox and now you'll unlock all the other features as well. That includes Getting the Text "Bold" to present something in strong tone.

Along that, there's an option to change the font style to "Italics". Select the text from the box and press "Italics" to change it.

You can also underline the the text to gain attention on the desired word or the sentence or to add a new design.

Once you are done with typing and the design of your text, you can click on "Size" to Increase or Decrease the size of text according to your need.

Your image is now ready to rock, just one more step. Press "Color" to choose from 1000s of different colors for your text to match with your image background.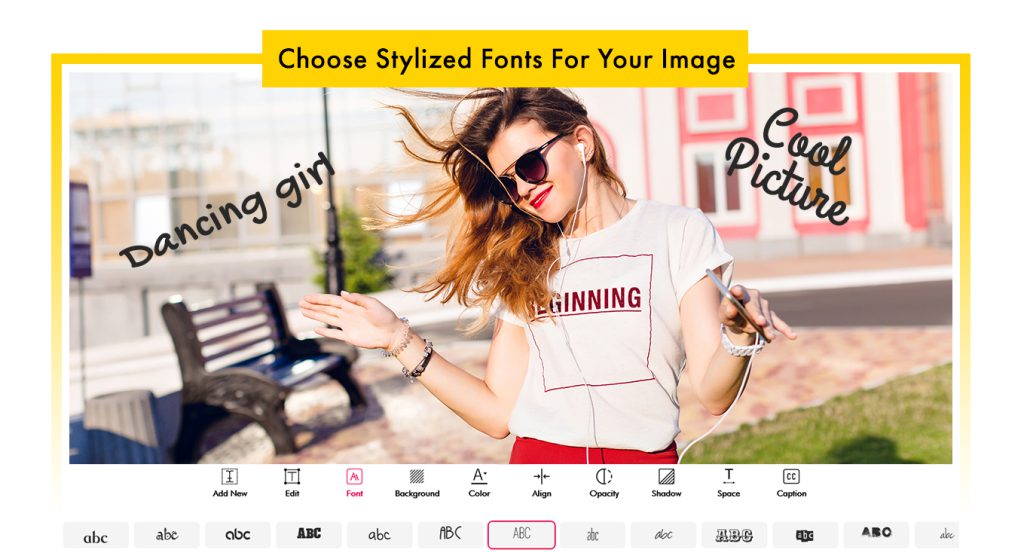 Step 3: Now, you're all set to show off your skills to your family or friends. Click on Accept to save the text on screen and align it according to your preference.