Just a few steps and you can create perfect custom video thumbnails and miniature. It's so easy and powerful to use both for YouTube beginners and professionals.
Create compelling thumbnail, channel art and banner of videos in YouTube thumbnail maker!
You can add any ideas to the work with a powerful YouTube studio toolkit. Our work is also suitable for banner and channel art as well as intro maker.
This is what our best YouTube thumbnail creator studio can do:




Background




Select from multiple backgrounds to create YouTube banners.

Powerful and stunning text design presets.

Amazing logos to choose from.

Save your content in both JPG or PNG
You can access thousands of beautiful text design presets, which you won't get from any other thumbnail App.
Create an eye-catching YouTube thumbnail that boosts your viewership.
You have done it  – finally, you have filmed and edited your youtube video that will put all the internet's clips put together to shame. Now you're wondering if it's possible to encapsulate all that amazing work in just one thumbnail creation. Now you want something that captures the full length of your video in one image and boosts its clickability in one fell swoop.
With Thumbnail Maker for YouTube Videos, you can enrich your chosen snapshot with texts and different design elements, or create a specified thumbnail design for a synchronized playlist or channel. With the best in industry tools and our easy-to-navigate interface, you will be creating your YouTube thumbnail to the tune of instant virality easily. How to create a YouTube thumbnail? It's very Easy!
Make it impossible for your audience to scroll past your YouTube thumbnail without clicking and having a look.
There're millions of benefits of having an official YouTube channel and getting to upload your own thumbnails. Thumbnails act as the face of your content-rich video and in no small part determines whether your video will be watched or not. So the last thing you want while you're just bursting to get that video out is to skip on giving attention to that one tiny little but important detail.
Even when you're in a rush to get your video out, you won't be needing to sacrifice all the effectiveness of your amazing thumbnail.
Thumbnail Maker for YouTube Videos lets you create a stunning video cover for your masterpiece with readily available and professionally designed tools that even less experienced non-designers can also tweak and make their own using this app's easy interface.
Step 1: Click on the start button to start the app
Step 2: Right in front of you would be the editing page, start by choosing a background from the multiple options we have.
If you are looking for a colorful background, choose from the millions of color options from the bar. Drag the cursor to your desired preference.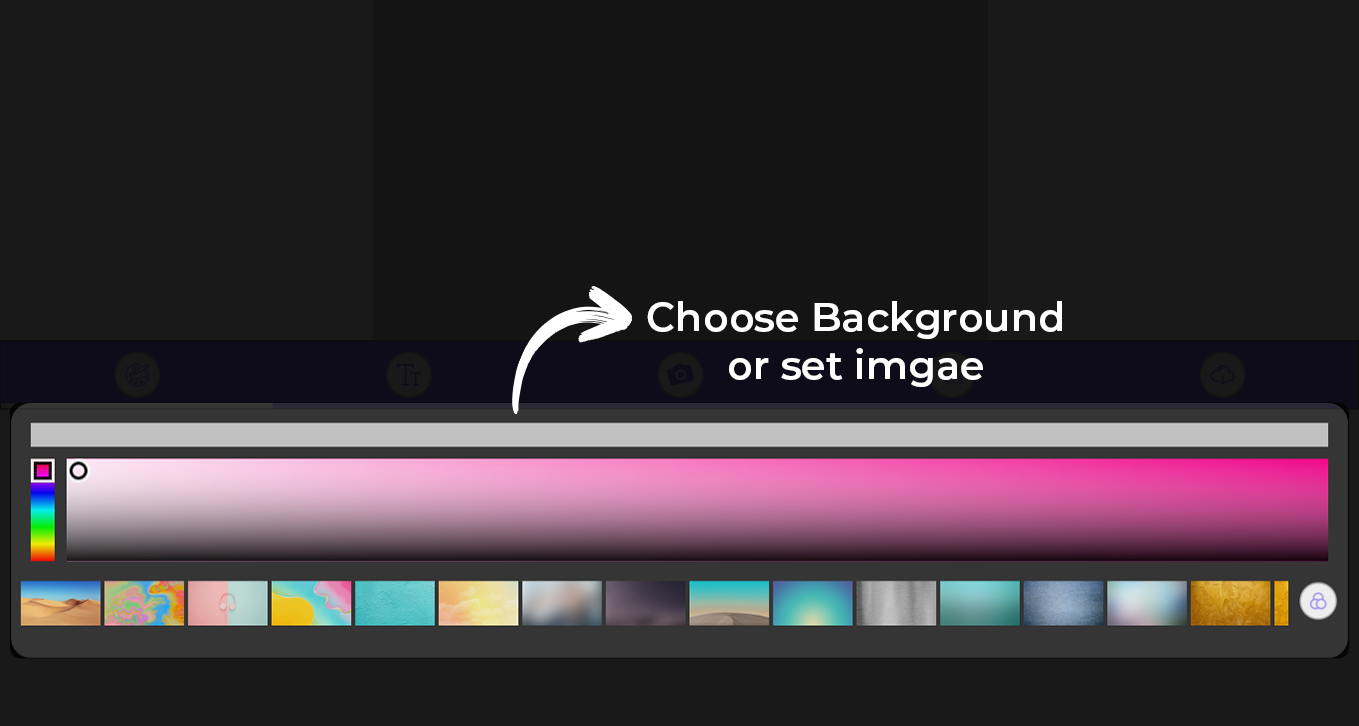 Step 3: Once you're happy with the thumbnail design you've created, it's time to share it with your viewers. Download and save it to your PC or Laptop in PNG or JPG format, then you can add it to your channel later. You can even share it on social media with one click.
People all over the world love Thumbnail Maker for YouTube Videos